As stated in my Towns page I have recently built an NPC villige. When I logged off of Perthcraft yesterday I had all my villagers securely tucked away in a box to protect them from Zombie attacks and use from others not a part of my town. But I had left permissions turned on so outsiders of my town can break blocks. Desomas (who is not a part of my town) then came in and released my villagers from their box and because of this 3 villagers are missing. I dont know how they died although I assume they might have gotten over the walls and wondered off or gotten killed in a zombie raid.
I had dirt pilled up completely blocking the doors so nothing could get in or out.
When I brought this to Desomas's attention he claimed that he "hadn't broken anything I built" and was "taking advantage of wild NPC"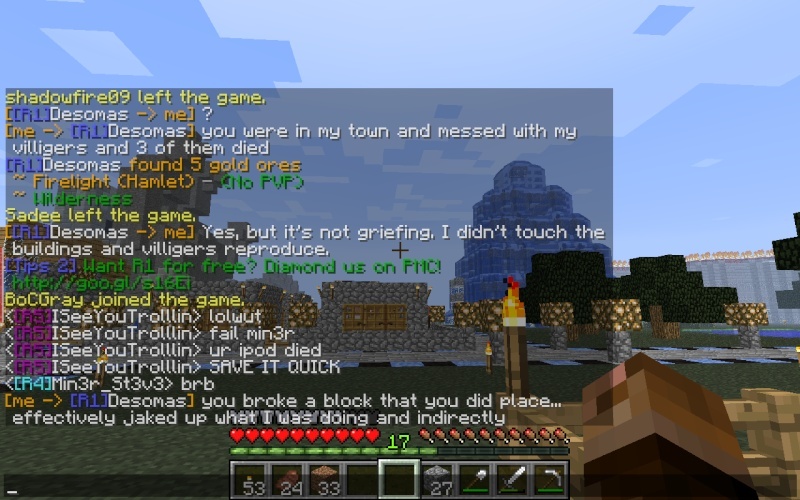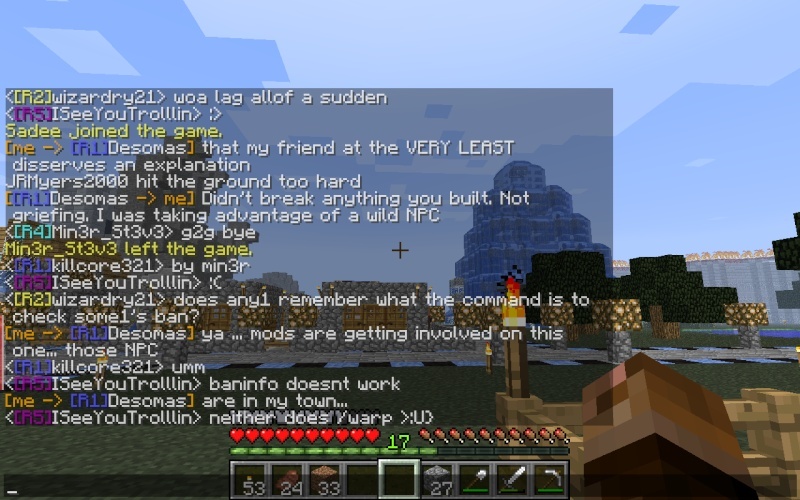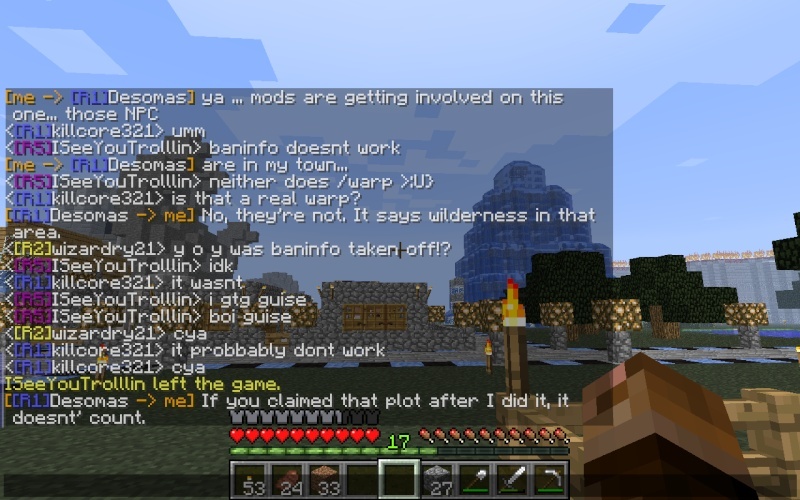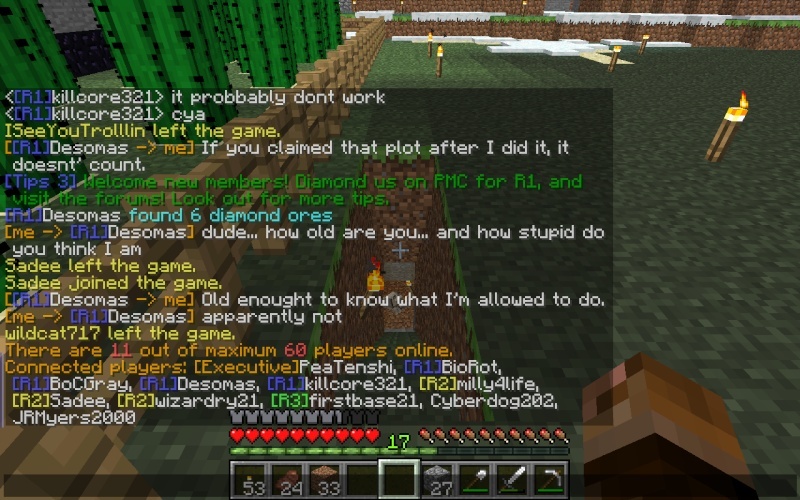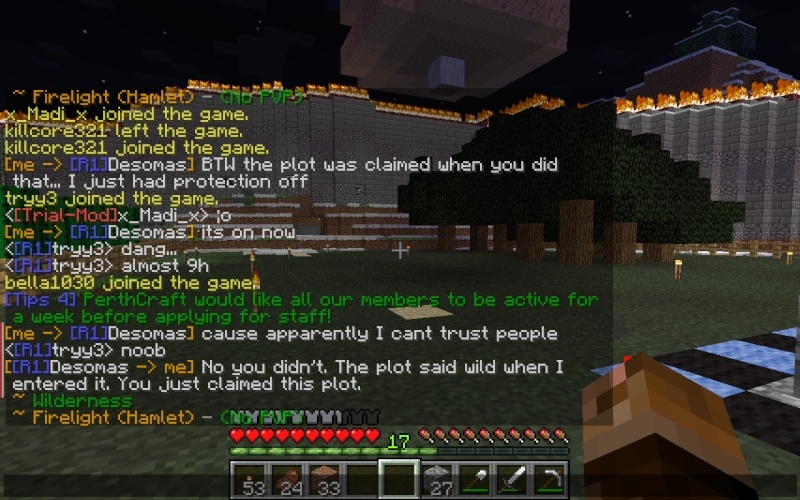 I am positive the NPC were in a claimed area, but regardless anything inside my walls, although it is a very large area, I would think claimed as mine... while what he did didn't cause much damage as my villagers are now safe in a box (I also figured out the command to fix the permissions) and I'm sure will begin making new villagers soon. I would at the least like the situation looked at by a moderator. I do not EXPECT any action to be taken but I do feel some wrong has been done. Had Desomas gone about defending himself in a different matter I would have completely forgot about the situation, but his response does leave me very wary of his intentions.
Moderator





Posts

: 145


Reputation

: 21


Join date

: 2013-01-16


Age

: 24


Location

: Washington



ALWAYS keep permissions on, or your town might get griefed to nothing while we are gone.... also, obviously that plot is claimed, im in your city every 5 seconds and im only in the "wilderness" outside your walls most of the time, try to claim it ALL so they dont have an excuse.
Perthcraftian





Posts

: 78


Reputation

: 8


Join date

: 2013-02-19


Location

: Home



Okay that area might have been "wilderness" technically but it was INSIDE your town walls and it is in land you intend to claim. They are in structures you created and those NPC were bred by you, they are not wild anymore. You can bet your biscuits he's riding out a ban for that one. You can't be expected to cover every area of your town with protections when you don't have enough protections available. Thank you for the screenshots.
Perthcraftian





Posts

: 182


Reputation

: 53


Join date

: 2012-12-26


Age

: 30


Location

: New Brunswick, Canada



Thanks for your quick reply.
Moderator





Posts

: 145


Reputation

: 21


Join date

: 2013-01-16


Age

: 24


Location

: Washington



---
Permissions in this forum:
You
cannot
reply to topics in this forum